Hooked – The Pitfalls of Media, Technology and Social Networking
SPEAKING TOPICS
Overview
Technology is used in virtually every aspect of our lives, sometimes proactively to provide information and help, other times insidiously to implant and harden beliefs or concepts. The combination of an eating disorder and technology in the form of eating disorder apps, online articles and videos, social media comments and images are a powerful mix.
Used correctly, technology can help one struggling with an eating disorder. Used improperly, technology can have devastating and long-term consequences. Dr. Gregory Jantz leads an important and focused review of ways counseling professionals can use technology for good, and ways to safeguard against misuse.
TARGET AUDIENCE
Therapists and Counselors working with depression and eating disorders
Behavioral Health Facilities that provide Mental Health and Eating Disorder Treatment
OBJECTIVES
Attendee will be able to have a solid understanding of online behavior of an eating disorder client and know the dangers and warning signs of inappropriate use.
Attendee will learn the tools and techniques for using technology with their client to affect positive results.
Attendee will gain knowledge of the most commonly used eating disorder apps and communities frequented by those suffering from eating disorders.
Book Dr. Jantz
To have Dr. Jantz to speak at your event, please fill out this form with the information about your event, and we will be in contact with you. For more information, contact Beth Chapman at bethc@aplaceofhope.com or 1-800-492-3910.
Buy the Book!
VOLUME DISCOUNTS AVAILABLE
Finally, there is new hope for those who suffer from depression.  For decades, standard treatment for depression hasn't changed. Sufferers typically are prescribed antidepressant medication and talk therapy. Period. But at least 30 percent of depression sufferers aren't helped by standard treatment. Instead, they are left still searching for true and lasting relief.
LEARN MORE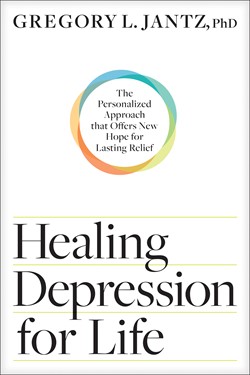 An eating disorder is a time bomb waiting to go off. Before you can do anything to defuse the bomb, you must first acknowledge its existence. DR. GREGORY JANTZ