Internet Addiction: The Ticking Timebomb
SPEAKING TOPICS
Overview
In our modern culture of 24/7 tethering to digital devices, a new societal phenomenon risks tearing apart the critical fiber of individuals, families and, indeed, our society. In this captivating presentation, Dr. Gregory Jantz takes the audience through various devices, websites, digital behaviors and attractors that produce and identify technology addiction. Learning up-to-date stats on behavior, masking techniques and negative consequences of obsessive digital addiction, Dr. Jantz provides proven tools and techniques to help treat those with technology addiction.
TARGET AUDIENCE
Therapists and Counselors working with Behavioral and Process Addictions
Behavioral Healthcare Facilities that provide Behavioral and Process Addiction Treatment
OBJECTIVES
Understand the various venues, devices and process used that lead to technology addiction
Understand the individual, familiar, professional and societal implications of technology addiction
Learn therapeutic and counseling techniques to treat those struggling with technology addiction
Book Dr. Jantz
To have Dr. Jantz to speak at your event, please fill out this form with the information about your event, and we will be in contact with you. For more information, contact Beth Chapman at bethc@aplaceofhope.com or 1-800-492-3910.
Buy the Book!
VOLUME DISCOUNTS AVAILABLE
In Hooked, counselor and addiction specialist Dr. Gregory Jantz speaks enthusiastically and frankly about the gizmos and gadgets, social media magnets, and Internet sidetracks we have at our fingertips. With real-life examples and biblical applications, he presents a celebration.
LEARN MORE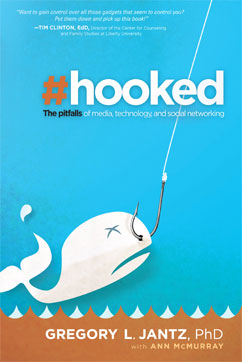 Living a virtual life happens when you start to put more value in the experiences you create online than the ones encountered in real life. DR. GREGORY JANTZ